The History of The Carrier Houses
Rutherfordton's "Golden Age" spanned from 1814 to 1845. During this time period Rutherfordton was the center for gold production in the United States. It was also the location of the Bechtler Mint where the first gold dollars were minted in the United States. The town grew in population and commercial industry.
It was to this prosperous region that Harvey Dewey Carrier, Tinsmith/Carpenter decided to move in 1822 seeking relief from his asthma. Two of the five homes he is known to have built are side by side on Main Street.  His residence, now  registered as the Carrier-McBrayer house, was built around 1835.
In 1879, Carrier built a home to house his expanding family and business guests.  His youngest child, Margaret, eventually came to own it.  This is now registered as the Carrier-Ward house.
These National Register homes have been refurbished in the likeness of the original houses that were built by Mr. Carrier.
The Carrier-McBrayer house has three guest bedrooms and is the residence of the B&B proprietors, Jim Masek and Russell Knight, along with Watson and Ranger, the two rescue dogs and resident greeters.
The Carrier-Ward house contains five guest bedrooms, each with a private bathroom.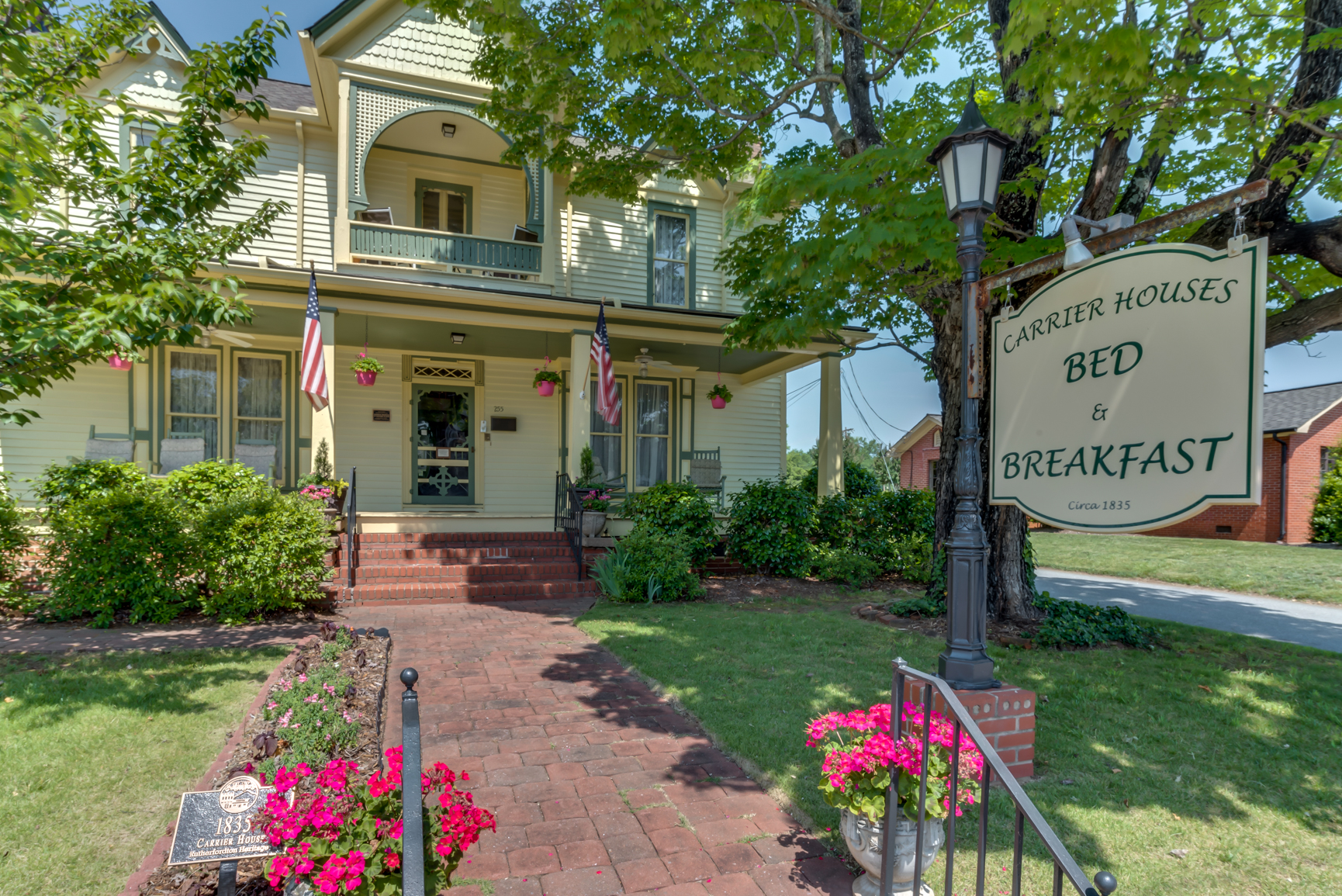 Carrier-McBrayer House
This is a weather boarded transitional Federal/Greek Revival house with two-story ell, overlaid with Victorian detailing on the exterior and dates back to circa 1835.
The house retains a transitional interior, but changes were made to the facade, including a second story porch with latticework and weather board railing, bay windows and gables with truss work.
These changes were made about 1879, when Mr. Carrier constructed the Victorian Carrier-Ward House next door.
Carrier-Ward House
This is a two-story, weather boarded, side gabled Queen Anne style house with front projecting wing.  The dominant feature of the house is the three story square tower with pyramidal roof rising at the junction of the main block and front wing, forming the central bay of a three bay facade.  The tower has a wide frieze of vertical boards and molded brackets.
The window on the second story is four-over-one with molded hood and above it, under the roof of the tower, is a round headed window with four-over-four panes.
The entrance door is double leaf with round etched glass panels above wood panels and protected by a double leaf screen door with spindles and cutouts.  Two other identical doors exist on front of each bay.
There are many other architectural features, which make this house a landmark in the community.